Beyond the Break: The Sam Danniels Story
A TELUS Original
Beyond the Break is a documentary that shares the story of Samson Danniels. He's a multi-sport athlete in three para-skiing disciplines along with biking, snowmobiling and paragliding. We follow Samson as he pursues his latest athletic obsession: surfing.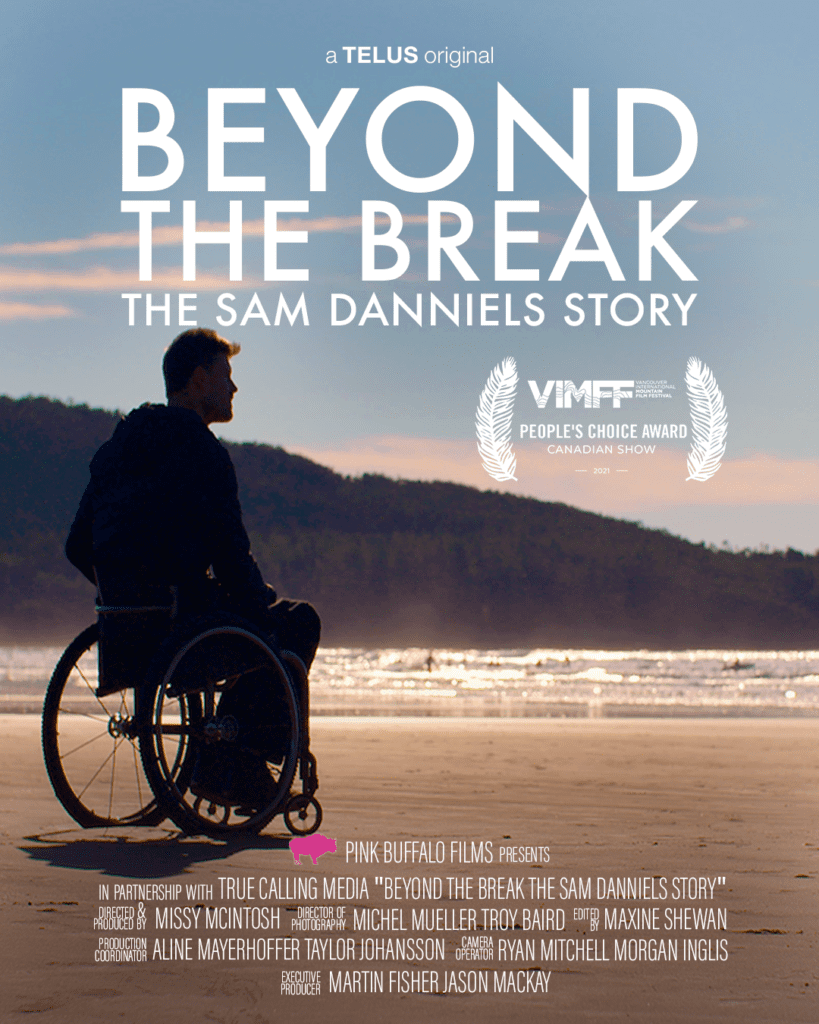 With Sam's high-level paralysis (T4, from the chest down), existing adaptive surfboards don't give him the core support he needs. So, he is learning to make his own.
As he designs and builds himself a customized adaptive surfboard to tackle the elusive and unforgiving waves of the Pacific Northwest, we explore Sam's continuing story of overcoming obstacles and physical challenges with passion, creativity, and ingenuity.
Beyond the Break: The Sam Danniels Story, is set to have its world premiere at this year's Vancouver International Mountain Film Festival (VIMFF). Streaming online Feb. 19-28, this is the 24th year of the popular festival that focuses on life in the outdoors.
For distribution inquiries or to request a screener, contact: distribution@pinkbuffalofilms.com
PRESS
Direct press inquiries to press@pinkbuffalofilms.com
CBC NEWS – VIMFF Profile, featuring Beyond the Break
THE PROVINCE – Documentary Premiering at VIMFF Chronicles How Sam Danniels Went From Skiing Down Mountains To Surfing The Ocean Using His Own Invention
VANCOUVER SUN – Canadian Paralympian Rides His Wave Ski to the Vancouver International Mountain Film Festival
NORTH SHORE NEWS – Documentary Examines North Van Athlete's Journey with Parasurfing
IGTV – Beyond the Break Live Featuring Director Missy McIntosh and Sam Danniels
Client: TELUS, True Calling Media